Accepting an Admin Invitation¶
Abstract
This guide will walk you through accepting your U.S. Cyber Range Admin Invitation. If you haven't yet signed up for a new organization, please see the article titled New Organization Sign-Up.
Follow the Email Invitation to Log in to Your Course¶
When you are invited to an organization as an Admin, you will receive a unique login URL via email. You can click on the invitation link as shown in the screenshot below. If you are experiencing issues with the invitation, you can try opening the link in an incognito or private browsing window.

Sign In to the Range¶
After opening your invitation link, log in with your preferred third-party authentication provider (e.g., Google or Azure AD).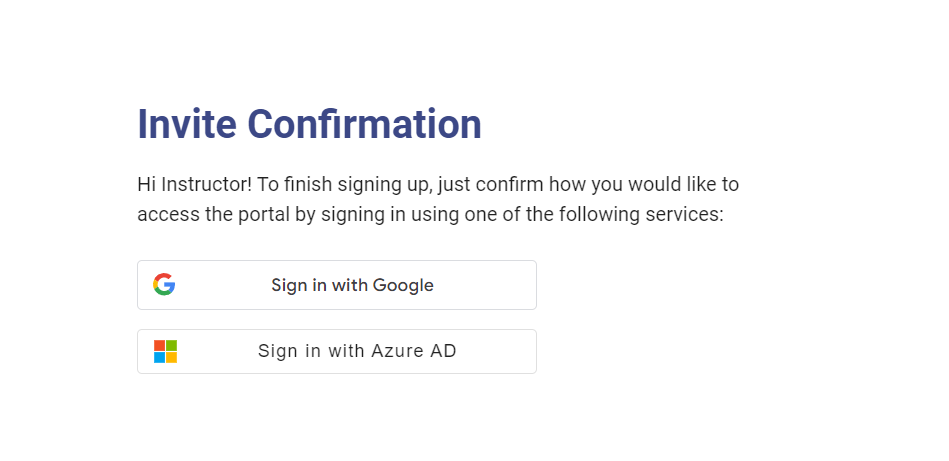 Upon selecting your third-party authentication provider, you may be directed to their site for login. Once successfully logged in, you will be redirected back to the U.S. Cyber Range.

If you have followed all the steps above, you should now have a U.S. Cyber Range admin account!
What's Next?¶
Depending on which admin privileges you have, we recommend checking out the following articles:
Note
If you would like to have your Cyber Range account deleted, please reach out to your Organization Admin for assistance.
Have a Question? Contact Support¶
We're here to help you. If you still have questions after reviewing the information above, please feel free to submit a ticket with our Support Team and we'll get back to you as soon as possible.
Thank You for Your Feedback!