Exercise Environments and their Statuses Explained¶
Abstract
This article will detail the purpose and function of our exercise environments and their different statuses you may see while interacting with them on the Cyber Range.
Exercise Environments¶
Our cloud-based exercise environments (also commonly referred to as virtual machines or VMs) are virtual environments that emulate the functions of a physical computer. Through our exercise environments, we are able to provide students with realistic, hands-on cybersecurity labs and exercises to safely practice related concepts without the risk of damaging an actual network or physical machine.
Warning
To ensure optimal use of Cyber Range resources, approximately 15 minutes after a user ends their session (for example, by closing the browser window that is displaying their exercise environment desktop) or after 6 hours of use, an exercise environment will save any progress made and automatically stop. If this happens during a user's active session, they can simply restart the environment. This is designed to keep resources up-to-date while providing the best possible learning experience.
---
Exercise Environment Statuses¶
Note
Not every status will appear each time.
Each time you start, stop, or reset an exercise environment, there is the potential to see several statuses. Located at the bottom of your environment page, each will individually appear next to a spinning circle icon: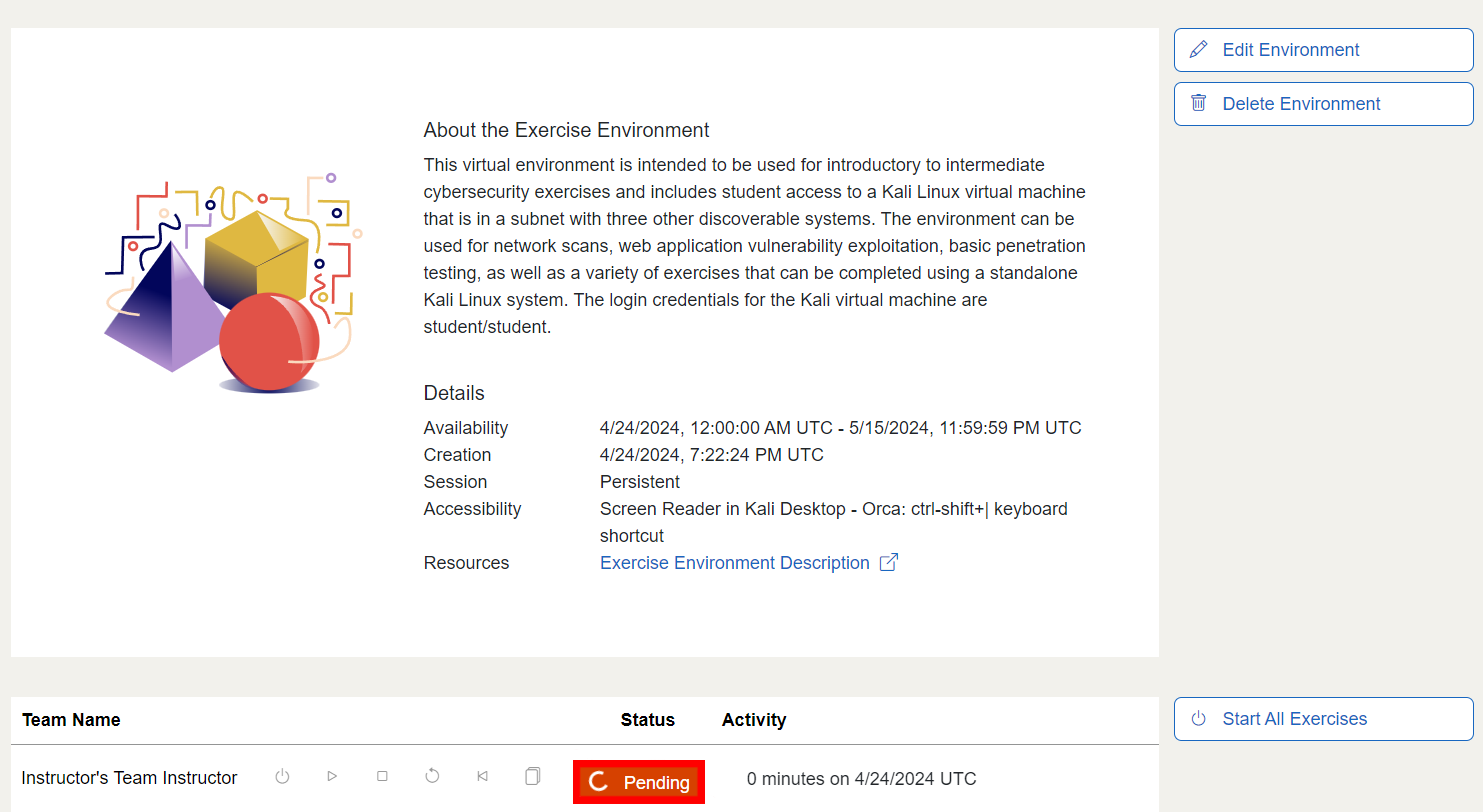 Loading: Indicates that your requested action such as 'start', 'stop', or 'reset' is in progress.

Initializing: Indicates that your exercise environment is being created.

Warming: Indicates that your exercise environment is being configured for initial use.

Starting: Indicates that your exercise environment is powering up.

Stopping: Indicates that your exercise environment is shutting down.

Resetting: Indicates that your exercise environment is being wiped and re-provisioned.
---
Have a Question? Contact Support¶
We're here to help you. If you still have questions after reviewing the information above, please feel free to submit a ticket with our Support Team and we'll get back to you as soon as possible.
Thank You for Your Feedback!