Courseware Repository¶
Important
In order to access and download materials from the Courseware Repository, you must first have a Cyber Range Account. If you do not have an account, please see the article titled New Organization Signup for more information.
The Cyber Range offers a wide variety of resources to our instructors, including our Courseware Repository. The Courseware Repository includes course syllabi, lesson plans, presentation slides, lab exercises, exams, and other content that educators can use in the classroom.
Navigating to the Repository¶
To navigate to the Courseware Repository, head to the U.S. Cyber Range, where you can select the Services tab which contains a drop-down list where you can find Courseware.

After the Courseware Repository page has loaded, you will be able to browse the large selection of content available to instructors. The page should look like the image below:

You can now search for your desired content. An example of one of our courses is shown below:
Search Feature¶
If you're looking for a specific topic in the Repository, you can take advantage of our Search Feature.
The Courseware Repository is indexed, searchable, and filterable. You can access the filters by selecting the Advanced Options button next to the search bar.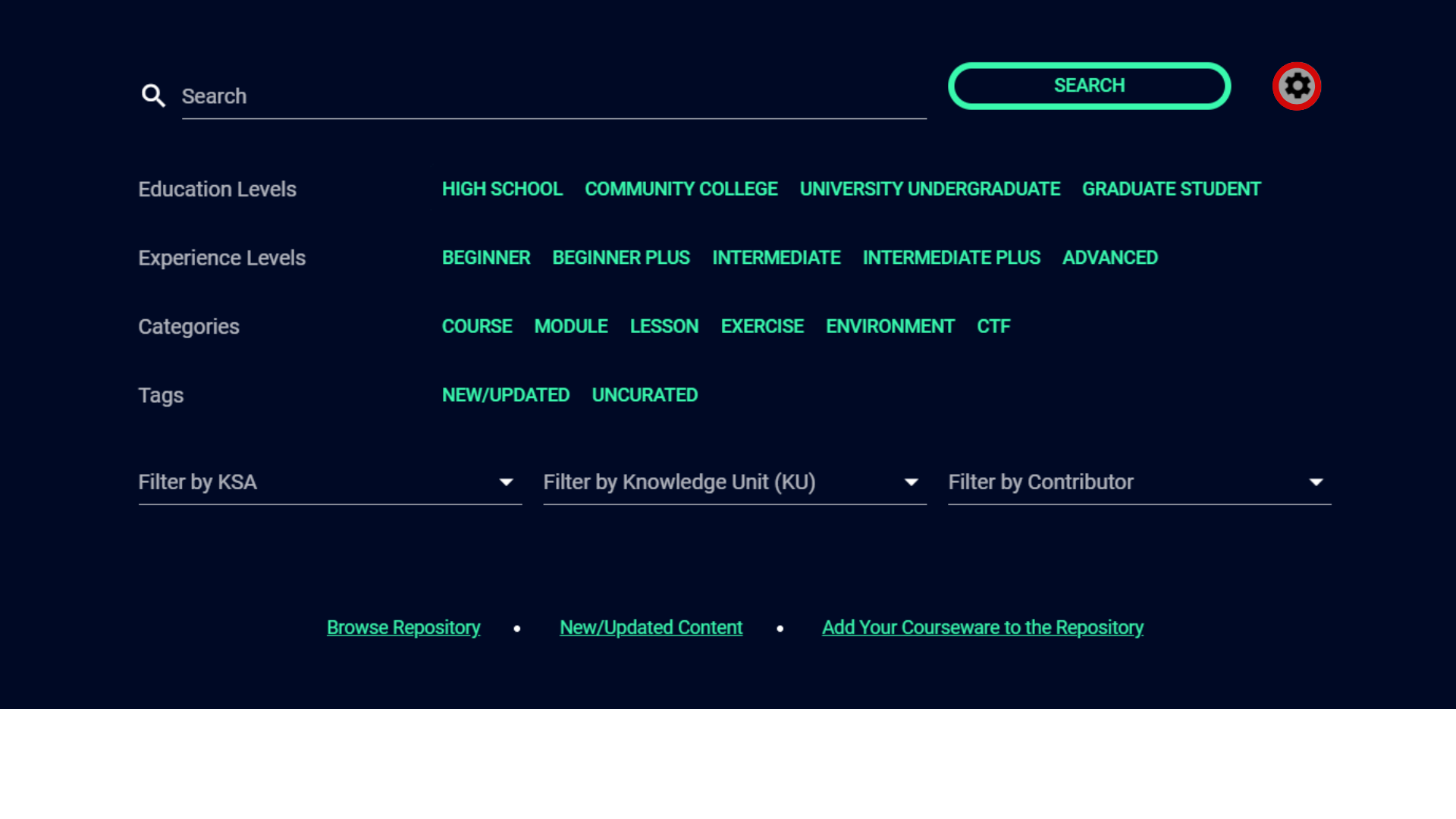 You have the ability to filter our content through many different categories. You can filter content by education levels, experience levels, content categories, tags (new/updated), KSA's, Knowledge Units (KU's) and even contributors.
Content Categories¶
Our categorized content makes it easy to search and find the materials you are looking for. Course materials are offered in modular form to allow flexible adoption of offerings, so you can teach in the classroom however you like!
Course - Courses can contain a syllabus, individual lesson plans, modules, presentation slides, homeworks and exams, and hands-on labs with necessary documentation.

Module - A module can consist of 3-6 lessons of related material and can be stand-alone or part of a course. All modules include a module description document with a brief description of the module and a list of lessons, labs, and homeworks.

Lesson - Lessons can consist of lesson plans, objectives, readings, external resources, and suggested in-class exercises.

Exercise - Lab exercises are intended as a laboratory event to reinforce a specific cybersecurity concept or concepts, normally as part of a specific cybersecurity course. They normally include one to three virtual machines with software to complete the exercise, along with a scenario description, detailed instructions for participants, and separate instructions for course instructors administering the exercise, as well as a grading rubric.

Environment - Exercise environments (or virtual machines) are virtual environments that emulate the functions of a physical computer.
Note
When adding your desired exercise environment, we recommend selecting the most recent version of the environment to provide the best possible learning experience. While we make every effort to keep our courseware as current as possible, some courseware may instruct users to use an older version. The version of the environment can usually be found in its title (e.g., Cyber Basics (2022.11)).
New and Updated Content¶
Our courseware is regularly updated to adapt to the new environments or topics we offer. To receive notifications of updated courseware, you can subscribe to our Newsletter. Our Newsletter details our latest updates along with general Cyber Range updates. You can subscribe here.
Additionally, you can view the last date our lessons were updated by navigating to the module of the lesson and scrolling to the bottom. Here, you will be able to see the "Last Update Information." We list the dates for the most recent update for the courseware and environment listed in the courseware. Alternatively, if you only wish to see New/Updated courseware content, you can specify that while searching or by using the following link.
Have a Question? Contact Support¶
We're here to help you. If you still have questions after reviewing the information above, please feel free to submit a ticket with our Support Team and we'll get back to you as soon as possible.
Thank You for Your Feedback!