Category Management¶
Creating a New Category¶
CTF admins have the ability to create new, custom CTF categories when designing their Cloud CTF environment. To do so, start by heading to the advanced settings tab for an existing or new challenge that you would like to place in your new CTF category.
Once you have navigated to the advanced settings of a challenge, you will then be able to create a new category by simply typing in your desired category name in the category field and clicking the "CONFIRM" button. In the example below, we will be adding a category titled "New Category".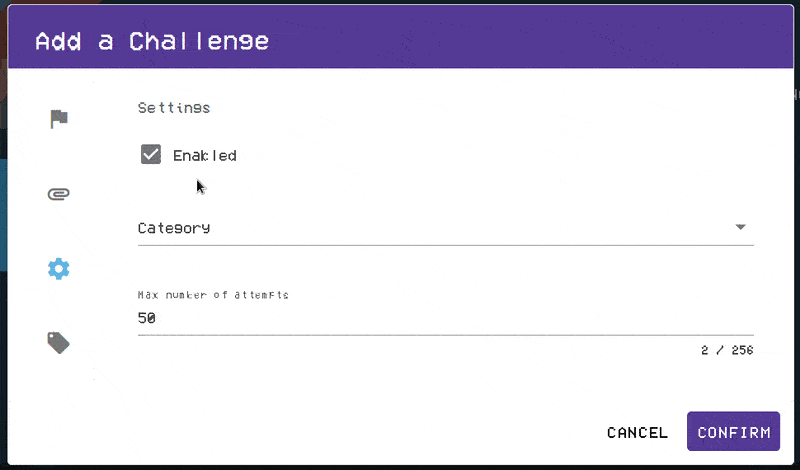 Your new category will now be created with your challenge in it and will be added to the end of your CTF's category navigation bar, as shown below.
Tip
Once you have created a new category, you can add additional challenges to it by selecting your new category in the drop-down category menu in a challenge's advanced settings tab.
Changing the Name of a Category¶
Unfortunately, at this time there is no way to directly change the name of a category. However, you can delete the category you wish to change the name of and replace it with a new category with your desired name to achieve the same result.
Changing the Order of the Category Navigation Bar¶
In order to reorder a CTF's category navigation bar, a Cloud CTF admin can drag and drop categories into their desired position. To do so, in the category navigation bar, click and hold on a category's name of which you wish to move, and drag it into the position on the bar you wish it to be in. You can see how the position of the category will change as you drag. In the example below, we will be moving a category from the last position to the second position in the navigation bar.

Deleting a Category¶
To delete a CTF category, a Cloud CTF admin must delete or move all the challenges in the category. Once the last challenge has been removed from the category, the category will be automatically deleted and removed from the CTF's category navigation bar.
Have a Question? Contact Support¶
If you experience any issues starting or viewing Cloud CTF in your web browser, please see the article titled Can't Launch Cloud CTF for helpful tips on resolving the matter.
We're here to help you. If you still have questions after reviewing the information above, please feel free to submit a ticket with our Support Team and we'll get back to you as soon as possible.
Thank You for Your Feedback!