How to Reduce Your Cost¶
The U.S. Cyber Range charges customers in a few different ways. Below you will find information on how your organization will be charged while utilizing the Cyber Range. This article will cover users, courses, exercise environment usage (cloud usage), and even provide some helpful tips to save you money.
How am I Charged?¶
Course Enrollment¶
U.S. Cyber Range customers are charged by the number of course enrollments. This includes students, instructors, and TAs. This means that a course consisting of 1 instructor, 5 students, and 1 TA will result in a total of 7 course enrollments. Course enrollments are calculated per calendar month, so when a new user joins a course, the enrollment is counted for the full month. For example, a user who joined a course on the 15th of September will be counted as an enrollment for the entire month. For more detailed information on how enrollments are counted and billed, please visit our article on Enrollment Management.
Exercise Environment Usage¶
U.S. Cyber Range Customers are also charged based on their exercise environment usage, cloud storage, and compute costs for all virtual machines that are provisioned for instructors, TAs, and students. Once a virtual environment has been created, your organization will be charged for that environment even if it's not in use. This is due to the cost of cloud storage. Please keep in mind that if an organization has no existing courses, but has created snapshots (copies) of virtual environments in the past, which are made available in the exercise environment catalog after the snapshot process, storage fees will continue for those environments.
Note:
To navigate to the billing section of your organization, please see the section titled Billing Invoices.
Tips for Reducing Your Monthly Cyber Range Expenses¶
Setting Appropriate Expected Number of Users¶
When creating a course, you will have the option to set the expected number of users. Make sure to set this number to match the number of users who will be enrolled in your course. Setting this value too low will likely result in increased wait times for your users' first usage of their VMs. Conversely, setting this value too high will add to your total Cloud Usage costs due to the additional pre-warmed VMs. For more information about the expected number of users, please see the article titled Cyber Range Pool Model.
Stopping Your Virtual Machine When Finished¶
When you are done using your virtual environment, we suggest that you stop the machine by pressing the "Stop" button, as shown in the image below. If you do not use the stop button, but rather close the browser window, the virtual machine will continue to run in the background for about 30 minutes. In order to make certain that the virtual machine has been completely stopped and is not using resources in the background, please make sure that you push the stop button when finished with your virtual environment.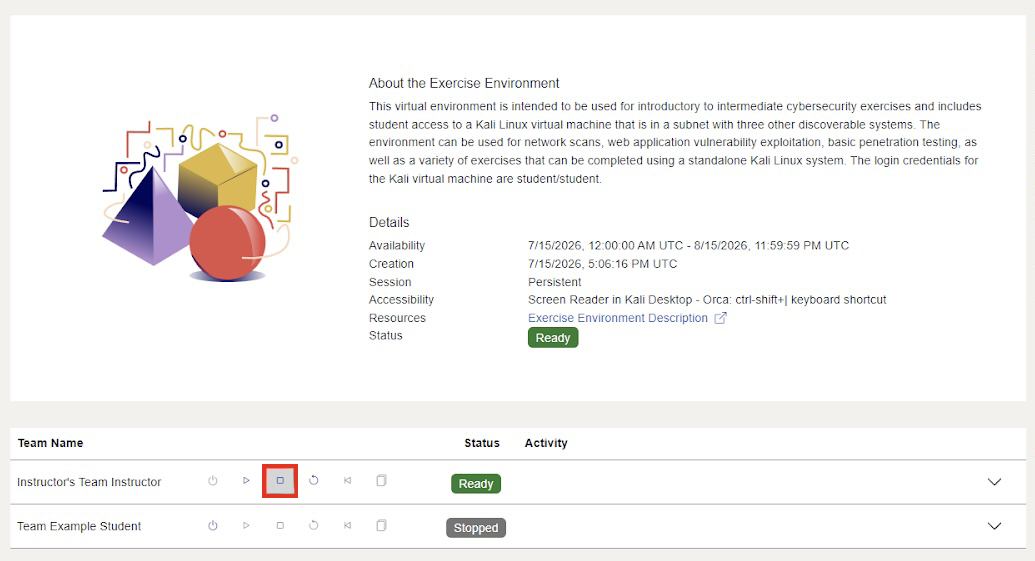 Deleting Empty Teams and Creating Groups¶
Deleting empty teams will help decrease exercise enrollment usages. If an empty team exists within your course, you should receive an orange warning message notifying you that your course contains an empty team. If you do not need the empty team, click on the gear icon located on the left hand side of the row, and then click "Delete". Grouping students into teams will also help reduce storage costs by giving teams a shared virtual environment. Please note: use of shared teams comes with significant limitations. Please see the article titled Team Management for further information on creating groups with your students.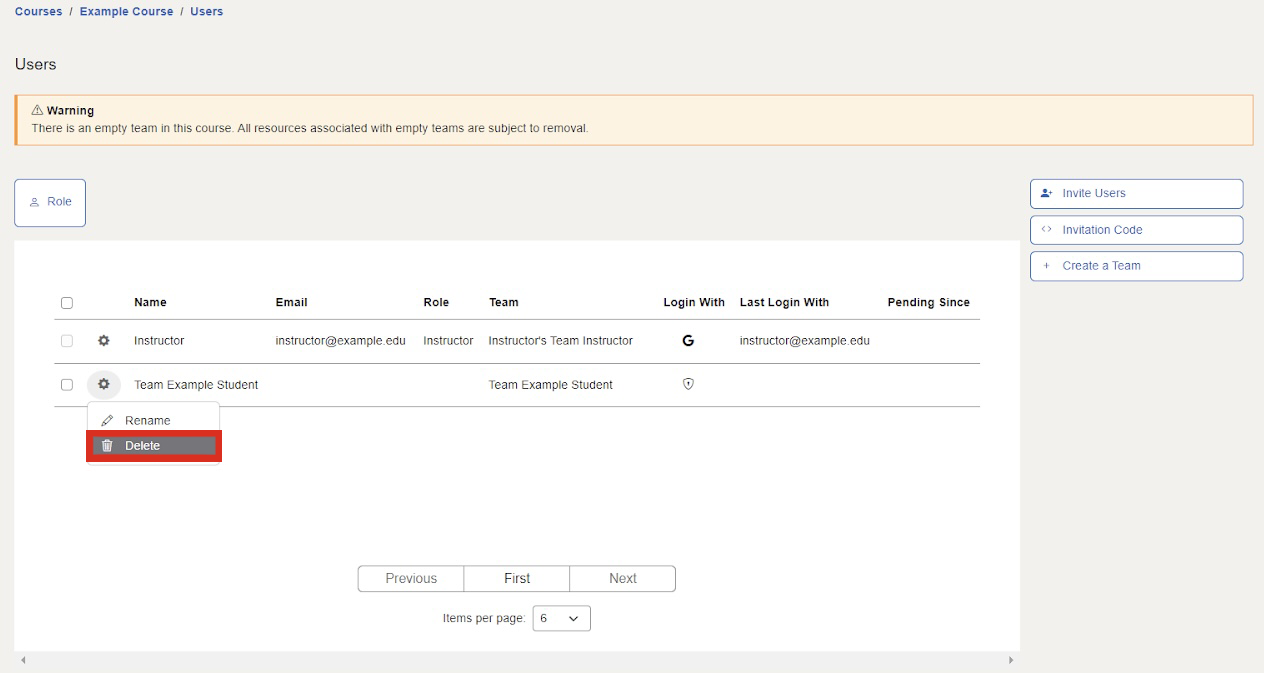 Remove Students Who Are No Longer In The Course¶
To reduce both course enrollment and exercise area usage costs, we advise that you remove users who are no longer active in your course. This can be accomplished by clicking the gear icon on the left hand side of the row, and then selecting "Delete".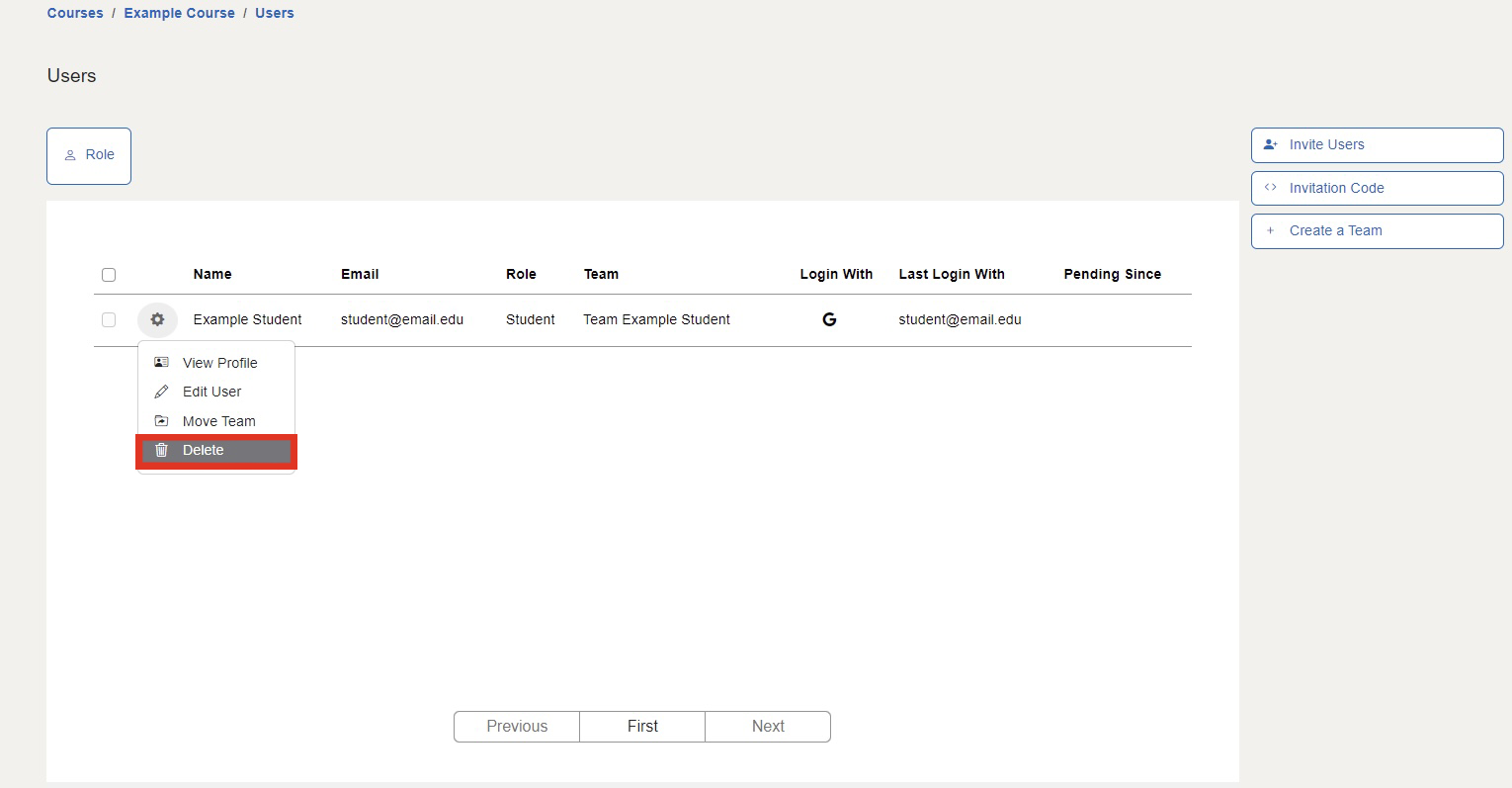 Delete an Exercise Environment When No Longer In Use¶
When you are done using an exercise environment for your course, and do not believe that you will be using it again, we recommend that you delete it. This will help decrease exercise area usage costs. The image below shows where the "Delete this exercise" icon is located. Please keep in mind that any changes made to the virtual environment will be lost when deleted, unless you have already created a snapshot of the environment.

Deleting Unused Courses and Setting Expiration Dates¶
While empty courses do not incur any charges by themselves, we do suggest deleting courses when they no longer are needed. To delete an entire course, please navigate to your course, and click on the "Delete this course" icon as shown in the image below. If you would like a more detailed walk through of the process, please see our article titled, How do I Delete a Course? for more information.
You can also set a custom expiration date for a course that will trigger automatic (and unrecoverable) deletion of the course. Please see the article titled How do You Change a Course Expiration Date? for further information.

Have a Question? Contact Support¶
We're here to help you. If you still have questions after reviewing the information above, please feel free to submit a ticket with our support team and we'll get back to you as soon as possible.
Thank You for Your Feedback!