Challenges Page¶
Abstract
This article details the display on the challenges page. For more information on other Cloud CTF pages, please see the articles titled Team Page and Scoreboard Page.
Challenges Page Overview¶
The Challenges page is the "homepage" for the Cloud CTF environment. You may choose from a variety of CTF challenges and get an overview of the competition here.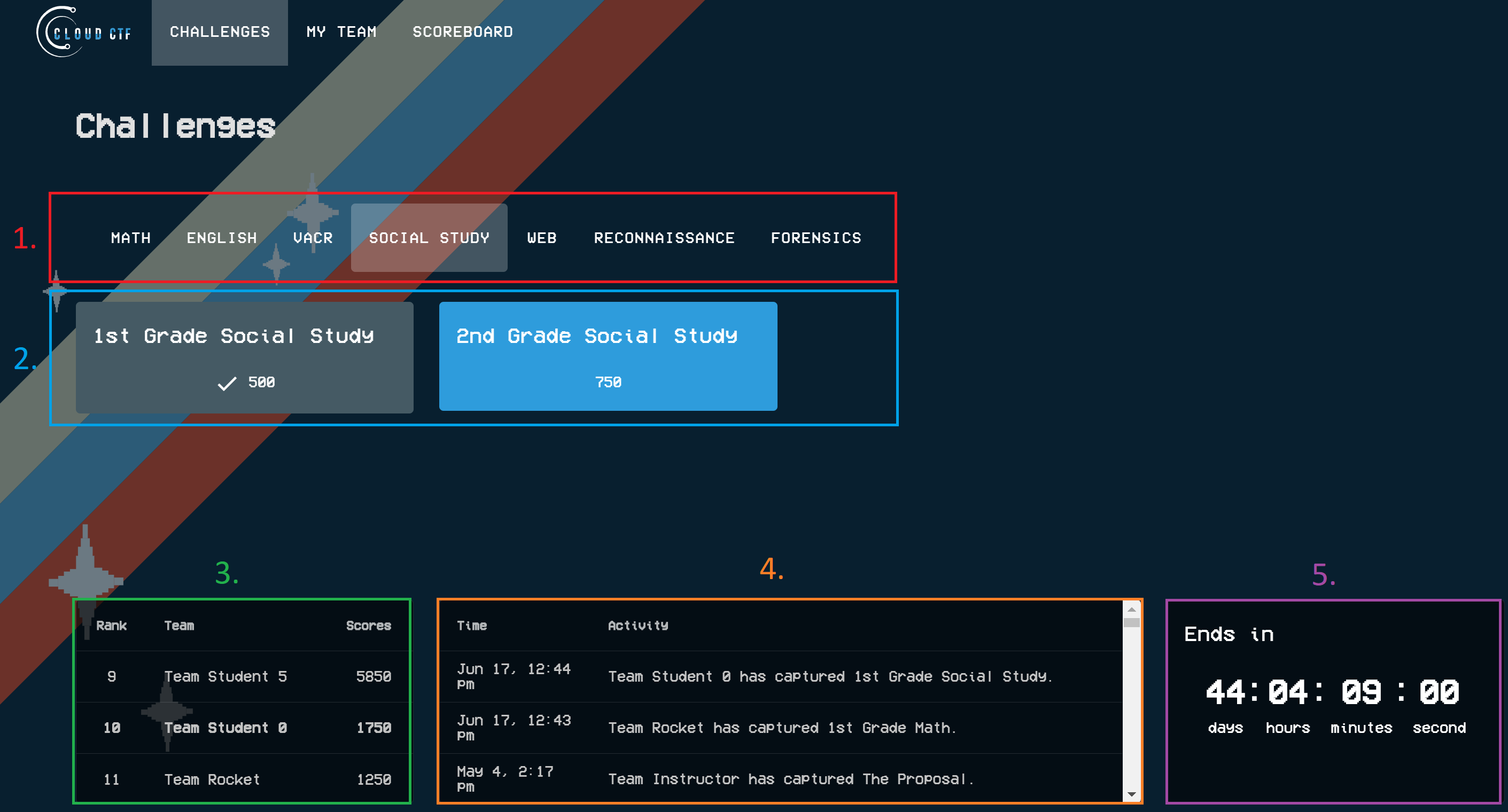 The various challenge categories are shown in the first row. Select between these categories to display the challenges within them.

The challenges filtered by the chosen category will display here. The name of the challenge and the awarded completion score are shown in the box. Gray, checked boxes show completed challenges, while blue challenges are uncompleted. If you select a challenge, a pop-up will display, exemplified below:

This display shows your current ranking and score in the competition, as well as the teams above and below you. To view complete rankings, visit the Scoreboard page.

The middle display shows recent activity in the CTF. Use the scrollbar to view all of the completed challenges and other activities from competitors throughout the CTF.

CTF Timer, displaying a countdown to the end of the competition. Make sure to keep an eye out for your deadline!
Have a Question? Contact Support¶
If you experience any issues starting or viewing Cloud CTF in your web browser, please see the article titled Can't Launch Cloud CTF for helpful tips on resolving the matter.
If you still have questions after reviewing the information above, please reach out to your CTF Admin or Instructor who can submit a ticket to our Support Team on your behalf.
Thank You for Your Feedback!