User Direct Pay¶
Note
User Direct Pay is currently only available for Flat Rate Plans. Please see our Plans article to see if your plan includes User Pay.
What is User Direct Pay?¶
User Direct Pay allows organizations to distribute the costs of the Cyber Range to their users. Rather than being charged monthly, the User Direct Pay feature allows students to make a one-time payment for access to their courses. Organizations will not be responsible for charges resulting from courses that have User Direct Pay enabled. This feature works especially well in university settings where students are responsible for the cost of Cyber Range courses.
Enabling User Direct Pay¶
User Direct Pay can be enabled whenever a new course is being created. This way, you can use this feature on a course by course basis. When creating your course, select the Payment button on the left side of the form.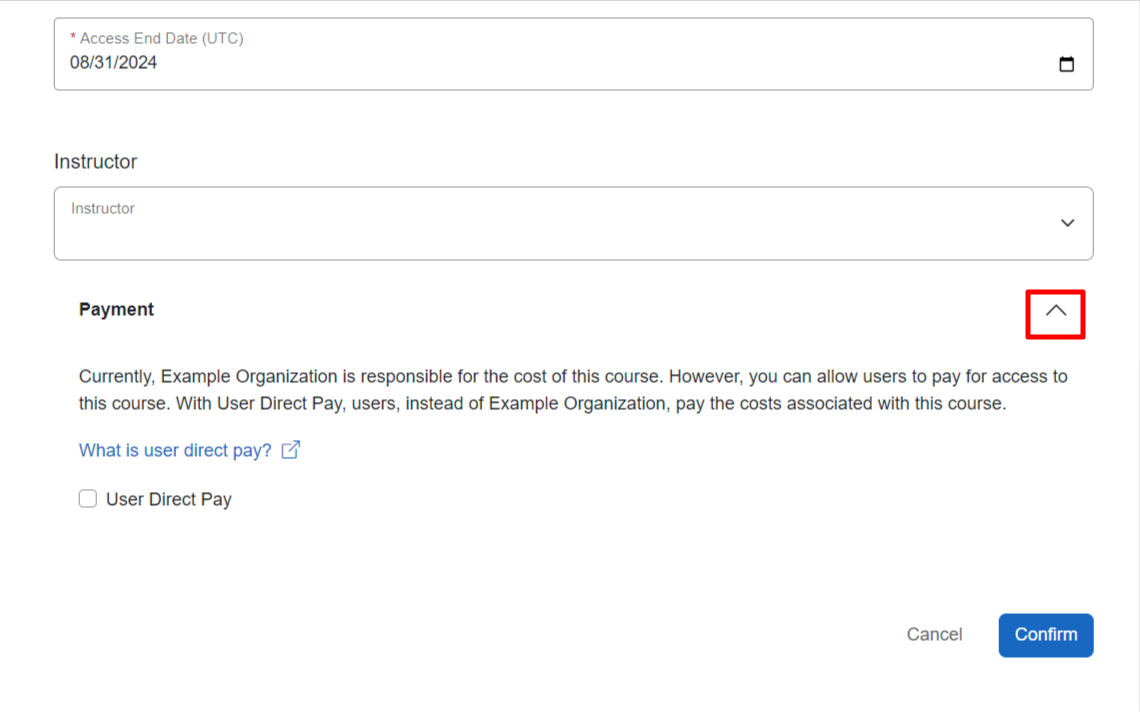 From here, you will be presented with the option to enable User Direct Pay. The cost that will be charged to users can be found under the User Cost section. Keep in mind that costs will vary depending on your Course length and plan type. You can control user access by editing the User Access Begin date and Expiration date. We recommend setting these dates similarly to your Course Start and End dates.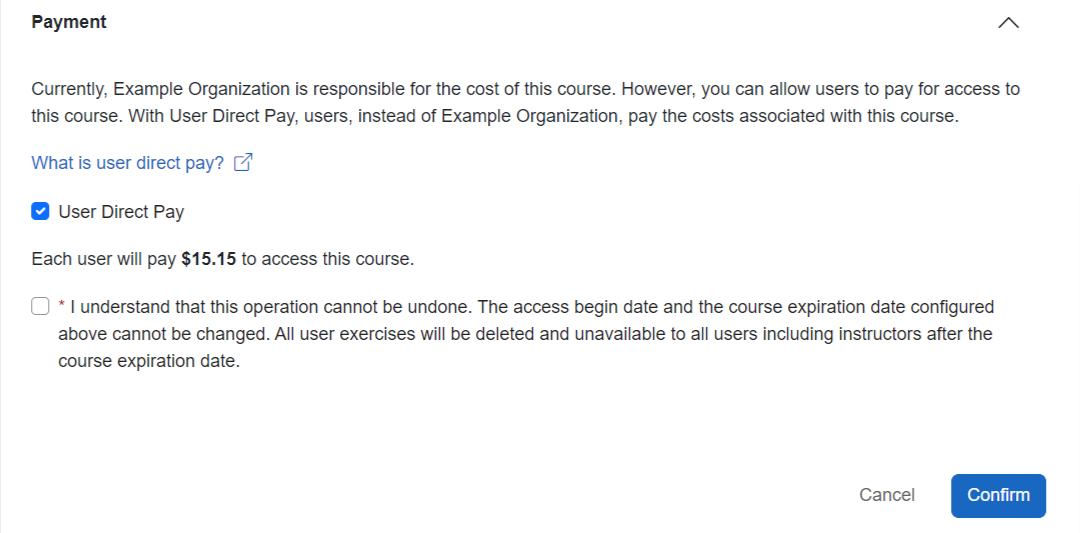 How do users pay?¶
Once your new course has been created, the next step is inviting your users, which is laid out in our KB article titled Inviting Users to Your Course.
Instructors¶
If an instructor has been invited by a course admin, they will be directed to pay once they have accepted the invitation they've been sent. However, if an instructor has requested a course themselves, they'll be prompted to make a one-time payment the first time they access the course after the course has been approved. After either process, instructors will then follow the same directions for students and TAs as described below.
Students and TAs¶
Once users have accepted their invitations, they will be automatically prompted to make a one-time payment for access to the Course. When they accept their invitation or input their registration code, users will be presented with this message: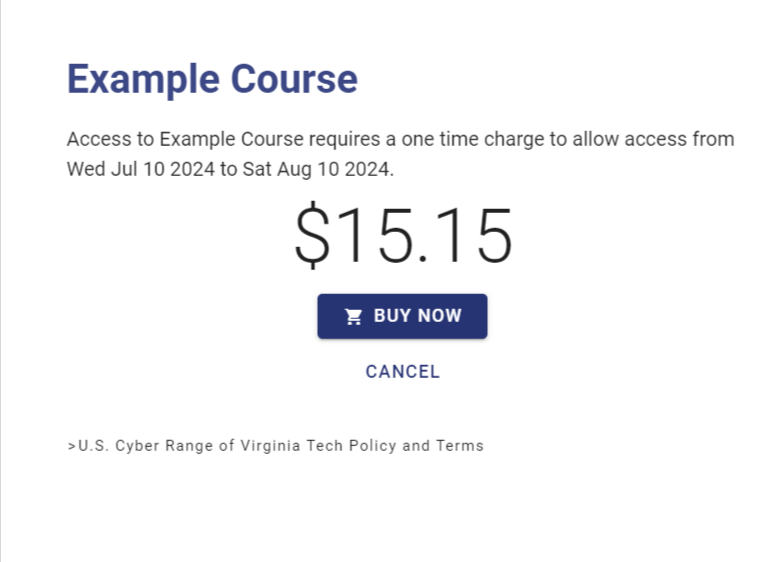 From here, users will be redirected to our Payment page at QuikPay where they can see the total amount they're being charged along with the course they are paying for. Pre-populated and fixed fields will appear:
Amount Due
U.S. Cyber Range of Virginia Tech (Type of payment. For course payments, this will be Course Registration Fees.)
Registrant Name
Course Name

Next, users will be prompted to enter their preferred payment method. Payments can be made by a credit/debit card or eCheck, as shown in the screenshot below:

Once users have submitted their payment, they will be automatically redirected to the Exercise Area where they can now access the Course.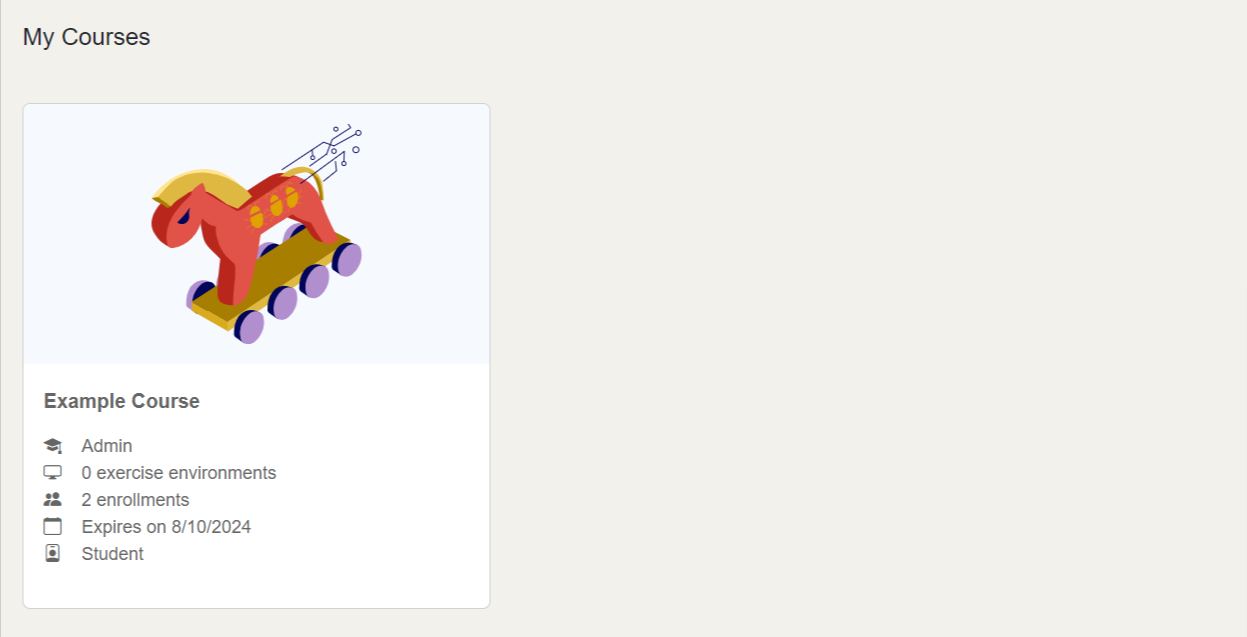 Have a Question? Contact Support¶
We're here to help you. If you still have questions after reviewing the information above, please feel free to submit a ticket with our Support Team and we'll get back to you as soon as possible.
Thank You for Your Feedback!