How to Pay Your Balance¶
Abstract
This article will detail how to pay your balance within the Cyber Range console. Only users with Billing Admin roles are able to access the billing page and make payments.
Manage Plans and Balance Activity¶
To view your plan information and balance activity, log into your Cyber Range account and navigate to your organization page. From here, you will click the "Manage plans and invoices" button denoted by a dollar sign icon.

Billing Page¶
From here, you will be directed to the billing page which shows the current balance for your organization, as well as plan details and balance activities. You will now click the "Make a Payment" button denoted by a credit card icon.

Make a Payment¶
The "Make a Payment" window will now appear which offers the option to pay the amount due or to instead pay a custom amount.
Note
You may not pay more than the amount due. If you would like to make a pre-payment, please contact us at: billing@uscyberrange.org.
Once you have selected the action you would like to take, you will click confirm.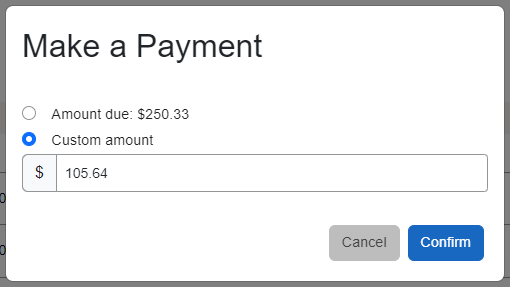 QuikPay Payment Page¶
From here, you will be redirected to our Payment page at QuikPay where you can see the total amount you are being charged. The following pre-populated and fixed fields will appear:
Payment Amount
U.S. Cyber Range of Virginia Tech (Type of payment. In this instance, it will be Service Fees.)
Organization Name
9 Digit VT Customer ID
Click the "Next - Payment" button once you've verified that the information is accurate.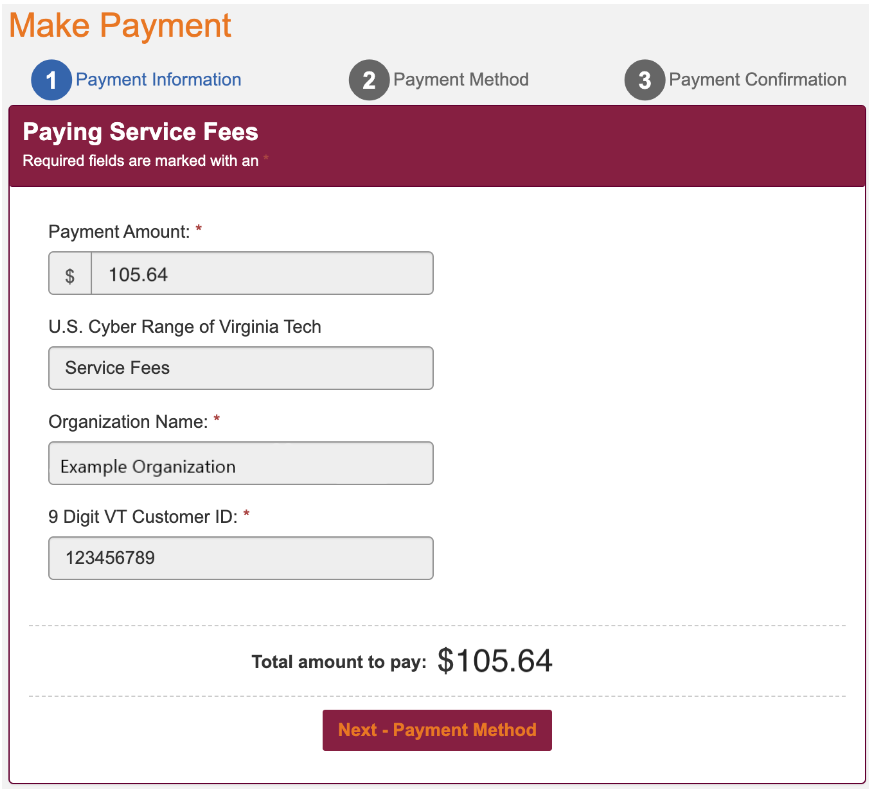 Payment Method¶
Next, you will be prompted to enter your preferred payment method. Payments can be made by a credit/debit card or eCheck, as shown in the screenshot below:

Once you have entered your chosen payment method, you will click the "Submit Payment for Amount Due" button. You will then be directed to the payment confirmation screen.
Have a Question? Contact Support¶
We're here to help you. If you still have questions after reviewing the information above, please feel free to submit a ticket with our Support Team and we'll get back to you as soon as possible.
Thank You for Your Feedback!