How to Join a Course¶
Abstract
This article details the process for students to join a course on the Cyber Range. If you are an instructor looking to invite students, please see the article titled Inviting Users to Your Course for more information.
Options for Joining a Course¶
Note
If your instructor is utilizing the User Direct Pay feature, the sign-up process may differ slightly. Please see our article titled Student User Pay Guide if your course requires payment.
There are two ways instructors can invite students into a course in the Cyber Range Exercise Area:
Invitation Link: They send an email invitation link (email + web link) the student clicks on to get into the course in the Range. Links are unique and single use. For more information, please see the section titled Joining a Course via an Invitation Link and the tutorial video titled Accepting A Cyber Range Invitation.

Invitation Code: They give students a 12 alpha-numeric course invitation code (such as "CBQYX4L3JOR3"), which you utilize to self-register in a course. For more information, please see the section titled Joining a Course via an Invitation Code.
Both methods will associate the course with your U.S. Cyber Range account, so you should always use the same OpenID provider and login credentials when accepting an invitation or using an invitation code
Joining a Course via an Invitation Link¶
Follow the link provided in the email from noreply@console.uscyberrange.org. If you think you should have received this but have not, please check your spam folder to see if it was improperly filtered.

Select the OpenID provider of your choice from the list provided and enter your credentials for that provider. For subsequent access to your Cyber Range resources you will browse to the U.S. Cyber Range Exercise Area.
Joining a Course via an Invitation Code¶
Students can self-register with an invitation code by simply navigating to the U.S. Cyber Range Course Registration page (console.uscyberrange.org/register) and entering in their instructor-provided invitation code as shown in the image below.

You will then be able to choose an Open ID provider to register for your account and log in.
---
After joining your course via the invitation link or invitation code, you will see two dialog boxes with agreements for joining that you must accept to use the Range. You will only need to accept the agreements on your first login to the Cyber Range.

After clicking the continue button, you will see the second dialog box with U.S. Cyber Range Exercise Area Acceptable Use and Data Collection Policy. Students must comply with these policies. Please read through the policy, check the box saying "I agree to the terms of this agreement," and click the next button.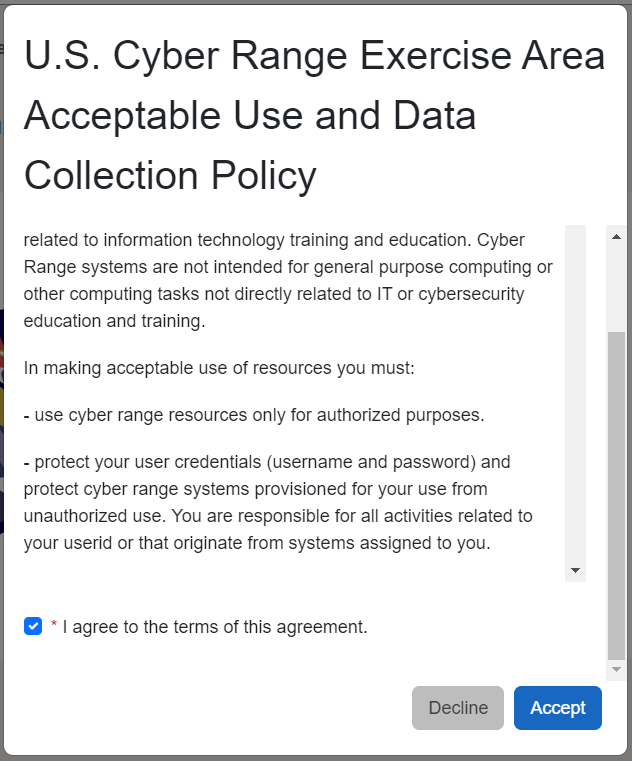 You should now be able to see your course and your available exercise environments listed underneath the course details.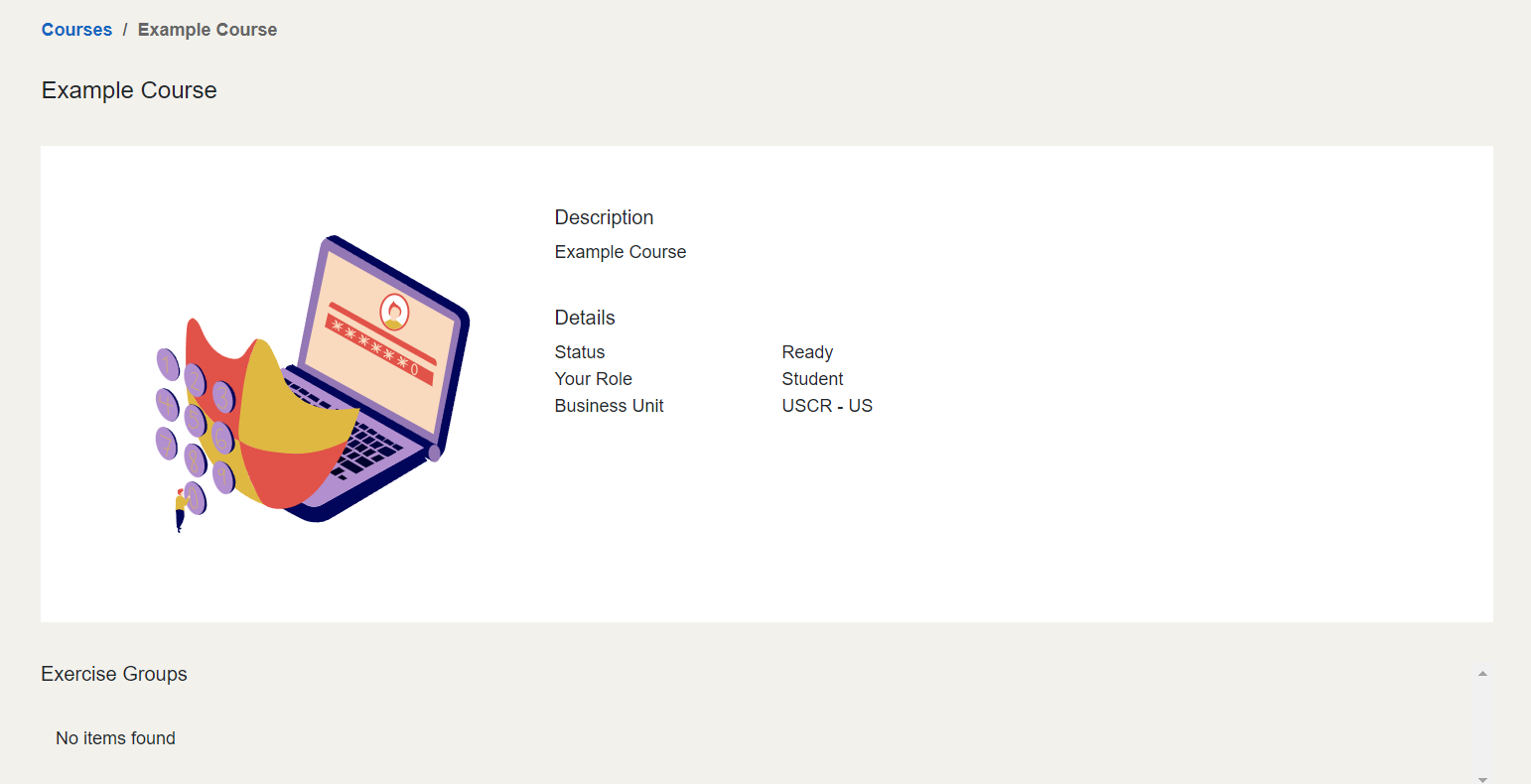 Once you are registered in your course and have your assignment instructions from your instructor, please see the article titled Student Quick Start Guide to learn how to use the environment.
Have a Question? Contact Support¶
Note
Students: Please reach out to your Instructor who can submit a ticket to our Support Team on your behalf.
We're here to help you. If you still have questions after reviewing the information above, please feel free to submit a ticket with our Support Team and we'll get back to you as soon as possible.
Thank You for Your Feedback!